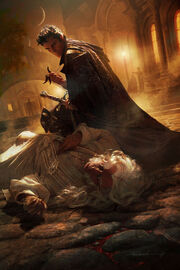 Lucan Jareth is an investigator of the Lightbringers who recently moved from Suluum to Anspara.
Lucan quickly rose in the ranks of the Lightbringers, following the footsteps of his father Renkar Jareth, a famed investigator.
Ad blocker interference detected!
Wikia is a free-to-use site that makes money from advertising. We have a modified experience for viewers using ad blockers

Wikia is not accessible if you've made further modifications. Remove the custom ad blocker rule(s) and the page will load as expected.